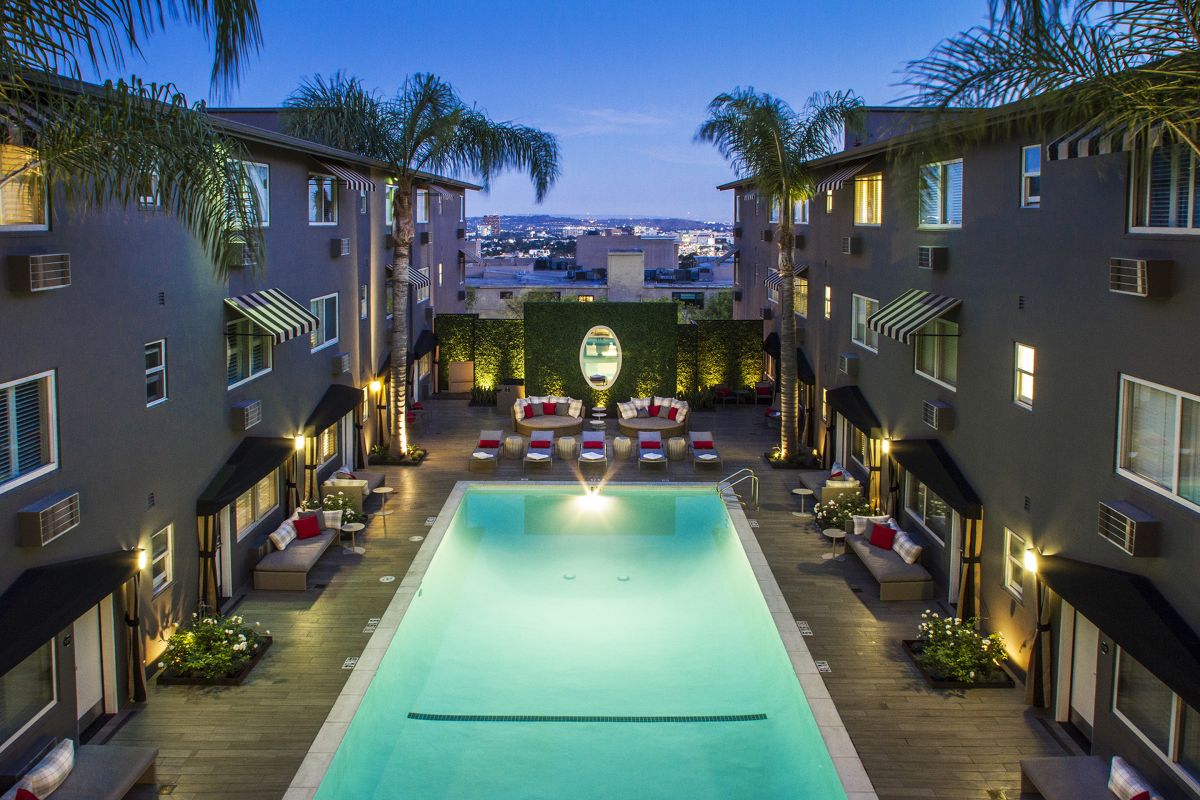 GRAFTON ACCESSIBILITY STATEMENT
The Grafton on Sunset has implemented the following accessible features to make your stay at our hotel as comfortable as possible. Should you have further questions about accessibility, please contact us by phone or email. We would be happy to accommodate your needs.
Available ADA Rooms and Features
Room details:
Accessible rooms include mobility features and entry or passage doors that provide 32" of clear width
Multiple guest rooms available with accessibility features; rooms offer king bed or two double beds
Mobility and hearing accessible features available
Accessible bathing facilities include:
Roll-in shower or accessible bathtub
Grab bars near toilet
Roll-under sink
Lowered bathroom fixtures
Accessible communication features in the room:
Visual fire alarms
Visual notification for doorbell/door knocker
Flashing light for incoming phone calls
Closed captioning on televisions
TTY for guest use
Outlet within four feet of a phone
Type of other accessible features in the room:
Accessible desk
Portable ADA hearing kit
Required clear width for door
Required clear width for pathway
Required width of route to all parts of the room
Required width of path to both sides of the bed (rooms with one bed) or down the middle of the beds (rooms with two beds)
Thermostat, switches, controls, drapery rods, closet rods at required height
Lowered room features and amenities
Controls and hardware that do not require tight grasping or twisting
Accessible public features:
Accessible public entrances flat with exterior
Lowered or partially lowered reception/check-in desk
Lowered or partially lowered concierge desk
Accessible vehicles can be accommodated

Sufficient width for an individual with a wheelchair to embark and disembark from a ramp.
Location of parking for individuals with disabilities

Accessible hotel restaurant

Wait staff will read menu for individuals who are blind or have low vision

Accessible swimming pool includes pool lift
Accessible exercise facility
Accessible business center
Service support animals welcome
Braille and tactile signage for permanent rooms and spaces
Accessible routes within the property:
To the restaurant from lobby
To the restaurant from accessible parking
To the lobby from accessible parking
To concierge desk
To elevators
To pool
To meeting room/ballroom area
To business center
To exercise facility
All of these characteristics include:

Level
Properly sloped
Sufficiently wide
Without cracks, holes, or other hazards
Free of obstructions or unsecured carpeting
Room reservations:
The hotel's website allows individuals with disabilities to reserve accessible guest rooms during the same hours and in the same manner as other individuals.
Accessible guest rooms are held until all other guest rooms of the same type have been rented (this is programmed into the online reservation system, and staff is trained to hold reservations made by phone in this manner).
When the accessible guest room is reserved, it is blocked and removed from all reservation systems and held for the reserving guest and guaranteed, even if the normal practice is not to guarantee.
The following features are not available:
Self-parking facility
Accessible transportation with advance notice
325-square-foot | Sleeps 2
Located alongside our beautiful saltwater swimming pool, the rooms include a leather and chrome headboard, mirrored accent walls, plantation shutters, and 52" flat-screen television with closed-captioning and MP3 player. This room is ADA compliant and includes a roll-in shower or accessible bathtub, grab bars in shower or transfer tub, grab bars near toilet, lowered bathroom fixtures, a roll-under sink, visual fire alarms, flashing light for incoming calls, TV w/ decoder, TTY for guest use and an outlet within 4 feet of a phone, accessible desk, wheelchair-width pathways throughout room and lowered guestroom amenities. 7 of these rooms are available.
Springboard hospitality ACCESSIBILITY STATEMENT
Last updated December 9, 2020
This accessibility statement ("Statement") applies to Springboard Hospitality, its subsidiaries and all of the hotels within the Springboard Hospitality Portfolio of Brands1 (collectively, "Springboard Hospitality," "we," or "us"). At Springboard Hospitality, we strive to deliver outstanding products, services, and experiences. We value your business and, more importantly, your loyalty. We recognize that accessibility for all is an important issue.
Springboard Hospitality strives to maintain compliance with the World Wide Web's Consortium's Web Content Accessibility Guidelines 2.0 Level AA (WCAG 2.0 AA) on our website, and:
* We have built our website using standard-compliant HTML and CSS
* We have ensured that the website content is structured in a logical manner using informative headings and labels where relevant, and are usable by customers who use assistive technology/screen readers.
* We have provided consistent navigation across the website
* We have ensured that images have alternative texts and descriptive links.
Please be aware that WCAG 2.0 AA Guidelines are evolving and our efforts to comply with these guidelines are ongoing. If you would like to report any accessibility issues, please contact us at ada@olshotels.com or phone us at 818-905-8280. We will make all reasonable efforts in order to update the page(s) and ensure their accessibility.